Early Learning Centre Ingleburn
Our Little Peoples Early Learning Centre Ingleburn offers care for children aged 6 weeks to 6 years. With long opening hours, we are open 52 weeks per year closing only for Public Holidays. Our programs are based on the Early Years Learning Framework with a focus on Being, Belonging, and Becoming, with an extensive Transition to School Program included for our pre-prep students. We provide a wide range of resources for each age group, including computers and a smart screen in our Preschool Room. Our centre is proud to be registered as SunSmart by the Cancer Council. Book a tour to see the centre for yourself!
Ingleburn Nominated Supervisor's Profile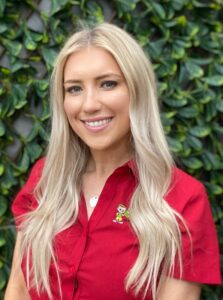 Hi my name is Amanda and I am the Nominated Supervisor of our Ingleburn Centre.
I started my Little Peoples Journey as a Trainee Educator in 2009, then continued to work in all aspects of the centre (Cook, OOSH, Babies, Toddlers and Preschoolers) until becoming a Supervisor in 2014. Through experiencing these roles, I have developed a thorough understanding of what builds a great centre and learning environment for all children, families and educators.
As an educator, I strive to create a centre based on the principles of respect, responsibility and community, through play, discovery and exploration. As a leader and Nominated supervisor, I strive to mirror those principles to my team of educators and reflect the values and ideas of others within our community as a whole.
Here at Ingleburn, our experienced, nurturing and dedicated team of educators plan and deliver meaningful and interest-based programs enabling your child to meet their developmental milestones and achieve personal and group goals. The learning environments are purposely set up to allow for an optimal learning through play experience, as well as reflect the interests and education of the children.
Our centre provides a wide variety of meaningful experiences allowing children to learn through play and provide tasks to teach real life skills. These include; cooking experiences, gardening, messy & sensory play, recycling, sustainability and other community projects, centre Pets, incursions and community celebrations (Mother's day, father's day, grandparents day, Harmony week, Easter, Christmas, NAIDOC Week) as well as a very successful Transition to school program.
It's been a pleasure so far to get to know the Ingleburn Community, as we recognise the big part that everyone plays in the lives of our little ones. It really does take a village to raise a child and we have our own village here at Little peoples. We wish to invite you to come and visit our centre and meet our friendly team!
Meals
Morning tea, Lunch & Afternoon tea are all provided
At Little Peoples we believe that healthy eating habits are formed in early childhood and that children's nutrition is important to their health and life long development, that is why our nutritional menu incorporates the daily dietary requirements of children.
All meals are specially prepared in the centre.
If your child has any special nutritional needs, food allergies or sensitivities, please let your centre supervisor know.
Our centres are a 'nut & egg free' environment.
Fee Assistance
Child Care Subsidy (CCS) is paid directly to services to help with the cost of child care for families who use approved and/or registered care such as this Little Peoples Centre. You can claim this subsidy using your Centrelink online account through myGov.
If you do not already have an account you can create one by visiting https://my.gov.au
Link your myGov account to Centrelink – you can do this under 'Services'.
Once an account has been created you must log in and complete your Child Care Subsidy Assessment.
The Child Care Subsidy is income tested and is assessed by Centrelink in conjunction with the Governments determined priority of access guidelines for child care centres and child immunisation requirements.
For further advice and assistance visit: https://www.humanservices.gov.au/individuals/services/centrelink/child-care-subsidy
or contact the myGov Helpdesk on 13 23 07